Ed Miliband will try to keep the focus on tax avoidance today as he unveils Labour's industrial strategy. Small businesses are in line for a schmoozing: first in the queue for tax cuts, measures to curb late payments by big business, more revenue for the British Investment Bank and a continuing commitment to having the lowest rate of corporation tax in the G7. And there will be more on tax avoidance as the Opposition tries to keep the issue in the headlines and at the front of people's minds.
I said last week that there was a danger for Labour that a game of "hunt the tax avoider" would kick off over the weekend, and the Sundays have all obliged. Robert Mendick had details of Dale Vince, the Ecotricity founder who is bankrolling Labour and the Greens. In the Sunday Times, James Lyons found that Sir David Garrard, who is funding Labour on two fronts in the battle against the Conservatives and the SNP, has placed shares in offshore trusts. In the Sun, Craig Woodhouse came up trumps, revealing that Bill Somebody has invested in a tax avoidance scheme, the Invicta Film Partnership. Ed Balls, who had the sticky wicket of defending his donors and his leader's tax affairs, has created some headlines of his own after revealing that since he entered politics he has got a receipt for every low-cost cash job from a cleaner, garder or handyman. ("Get a receipt, Balls tells Britain" is the Times' splash.)
It may be that these activities - which are all perfectly legal - muddy the waters enough to blunt Labour's advantage, although the Opposition doesn't have the same "party of the rich" perception problem to begin with. What could turn the tables is the Conservatives' "welfare week". The universal credit is being rolled out, providing, among other things, a story of Conservative success - Peter Oborne and Matthew D'Ancona are both full of praise for Iain Duncan Smith and his pet project, although the full assessment is more complicated - and also a handy reminder of Labour's own perception problem: namely that the party is "soft" on welfare and will turn on the taps as far as welfare spending.
So, that's your week. "Party of the rich" versus "the Welfare Party". The weekend feels a long way off, doesn't it?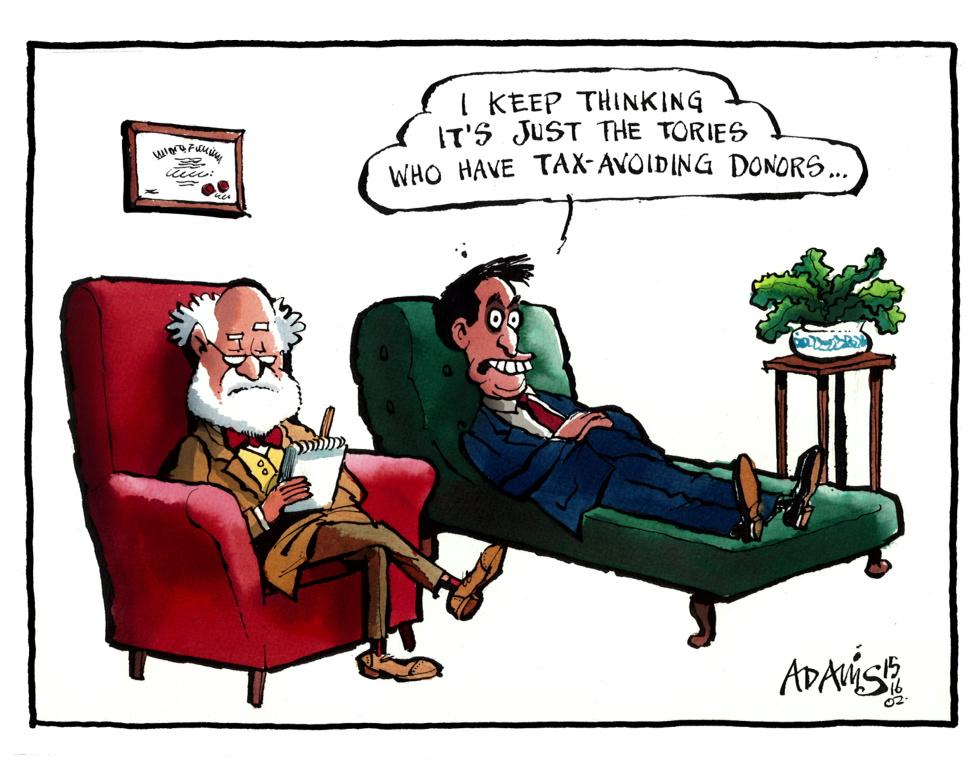 A LOAD OF CRUD?
Next month sees the publication of Blue Labour: Forging A New Politics, which includes, among other things, a chapter by Labour's policy chief Jon Cruddas, which Ben Riley-Smith has got his hands on. Mr Cruddas wants an end to "top-down re-organisation" in public services, and a focus on "ethical enterprise" - co-ops, mutuals, and so on - instead of those parts of the private sector that are "driven purely by corporate profit". "Labour may ban private government contracts" is our page 1 lead. Also among the contributors to the book: Mayoral hopeful David Lammy and former campaign coordinator Tom Watson.
DORRELL TO BURNHAM: COME AT ME BRO
The Conservatives must expose the "myth" that they are privatising the NHS, Stephen Dorrell says, while the growth in the care service should be celeebrated as the growth "of a domestic service industry, just like we go out more than our parents' generation did to enjoy a Saturday night out". Mr Dorrell made the remarks as part of an interview with Rosa Price, which you can read here. (On that note, the full interview with Jack Straw about Iraq, the Home Office and Labour's early Eightes breakdown is now online here)
THE AXEMAN COMETH. EVENTUALLY.
Ed Pilkington speaks to David Axelrod in today's G2, who shows all of the enthusiasm for Labour that you would expect from a man who has already written the first line of his obituary. Privately, most Labour insiders concede that Mr Axelrod will do very little but are intensely relaxed about it. "It's an improvement on Mark Penn," says one veteran of Labour's 2005 campaign, "He irritated everybody." One MP says: "An expensive American is just one of those things you have to have, because you had one last time, and the other guys have got one."
TO ARMS, TO ARMS
The PM risks emboldening Valdimir Putin and Islamic terrorists if he goes back on Britain's Nato commitment to maintain defence spending at 2% of GDP, Anders Fogh Rasmussen, who left his post as Nato General Secretary last year, and his predecessor Jaap de Hoop Scheffer, have warned. Also calling on defence spending to be maintained is Boris Johnson in his column.
E-JUSTICE
Thousands of legal disputes could be shifted online under MoJ plans to cut costs, Nigel Morris reports in the Indy. Judges would rule on cases involving up to £25,000 without the need for parties to appear in person or courts to be booked, potentially saving large sums, under plans drawn up by the Civil Justice Council, who have taken inspiration from eBay, which settles 60 million disputes a year using online dispute resolution. "Online courts modelled on eBay to settle legal disputes" is the Indy's splash.
0.7% UP
The PM has told ministers he wants no hurdles to be placed in the way of the backbench Bill to enshrine Britain's 0.7% aid commitment in law, Nigel Morris reports in the Indy.
CATCH A GOLDEN STAR
Promotion in the PM's first post-election reshuffle - results permitting - could hinge on the number of campaign points collected between now and then, ministers have been told. Paul Goodman isn't impressed.
You can get in touch with me by pressing "reply" or or on Twitter. Our cartoon is the work of Christian Adams, who is also on Twitter. A gallery of his work can be viewed here.
POLL OF POLLS

Labour 34% Conservatives 33% Ukip 14% Liberal Democrat 7% Ukip 14% Greens 7% (Ashcroft-IpsosMori-Opinium-Populus-YouGov)


LATEST POLLS:
ComRes: Labour 34% Conservatives 32% Ukip 16% Liberal Democrat 7% Green 4%
Opinium: Labour 35% Conservatives 33% Ukip 14% Liberal Democrat 8% Green 6%
Populus: Labour 34% Conservatives 31% Ukip 14% Liberal Democrat 9% Green 6%
YouGov: Labour 35% Conservatives 32% Ukip 15% Green 7% Liberal Democrat 7%
TOO MANY TWEETS...
@KateMaltby: Farage really has joined the Westminster system, hasn't he? He's spending his weekends tweeting about the glories of #UKIPdoorstep.
COMMENT
From the Telegraph
Boris Johnson - If we want to be taken seriously, we have to defend ourselves
Peter Oborne - Universal credit: is there anything it can't do?
From elsewhere
Matt Goodwin - The mainstream haven't understood how the handle Ukip (FT)
Libby Purves - Hateful politicians are making us hate them(Times)
AGENDA
1430 LONDON: European Commissioner Cecilia Malmstrom and trade minister Lord Livingston speeches on TTIP EU/US free trade deal.
TODAY IN PARLIAMENT
In recess until 23rd February.